Soul Italy Food Services
Back to School special until August 25th receive 25% off pick up orders! Anything on the menu!!
What's better than comfort food?  How about soul-comfort food! All the soulful comfort foods like banana pudding, mac 'n' cheese, and collards sharing the menu with lasagna & meatballs. Check out their brand new apps menu here. East Cobb SNOBS love wings so we're looking forward to sampling those for ourselves ASAP.
Soul Italy catered our block party with Springfree Trampoline East Cobb earlier this summer. We had a blast especially when it came to chow time.  The neighbors at Vickery Park subdivision in East Cobb, Marietta, GA came out to enjoy some trampoline fun, free food and music.
Here's what Soul Italy prepared for us:
Meatball appetizers BBQ & Marinara
Baked chicken (breast tenders and boneless thighs)
Mac 'n cheese
Green beans
That mac n cheese was creamy and savory and overall impressive! We've also sampled gluten free breakfast casseroles at other catered events. We love that Soul Italy caters to most food sensitivities! Soul Italy creates unique menus perfect for your event.  The hustle and bustle of school schedules is rapidly approaching. If your family is craving home cooked comfort food but you don't have time to cook- order pick up from Soul Italy! Got a sweet tooth? Check out the desserts Soul Italy offers.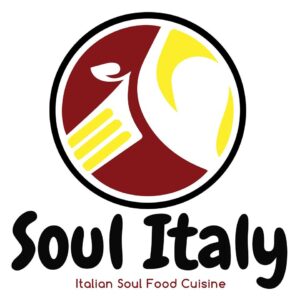 Award:  Soul Italy's Mac 'n' cheese and Alfredo Lasagna was the winner of the Southern Bites competition (cooking portion) at the Southern Sky Brewery in Kennesaw in September of 2016.
Catered Events: hosting a business dinner party at home?  Plan the menu with Soul Italy. Four course meals and catered in home dinner parties are Soul Italy's forte.
East Cobb SNOBS receive 25% off pick up orders until August 25th. Contact Soul Italy through their Facebook page.  Tell them East Cobb SNOBS sent you!