As we get closer to the May 24 referendum on East Cobb Cityhood, the debate is heating up. Is cityhood a good idea for our community? To see map from Cobb County go here.
A Public Forum
On May 4th, the East Cobb Rotary will be hosting a East Cobb Cityhood Forum.
"The Rotary Club of East Cobb will be hosting a forum at Pope High School, debating the referendum — a "yes or no" vote on the establishment of the City of East Cobb. The event will be open to Cobb County residents and will be moderated by award winning journalist, Donna Lowry. Get free tickets here" https://www.eventbrite.com/e/east-cobb-cityhood-forum-tickets-301917281717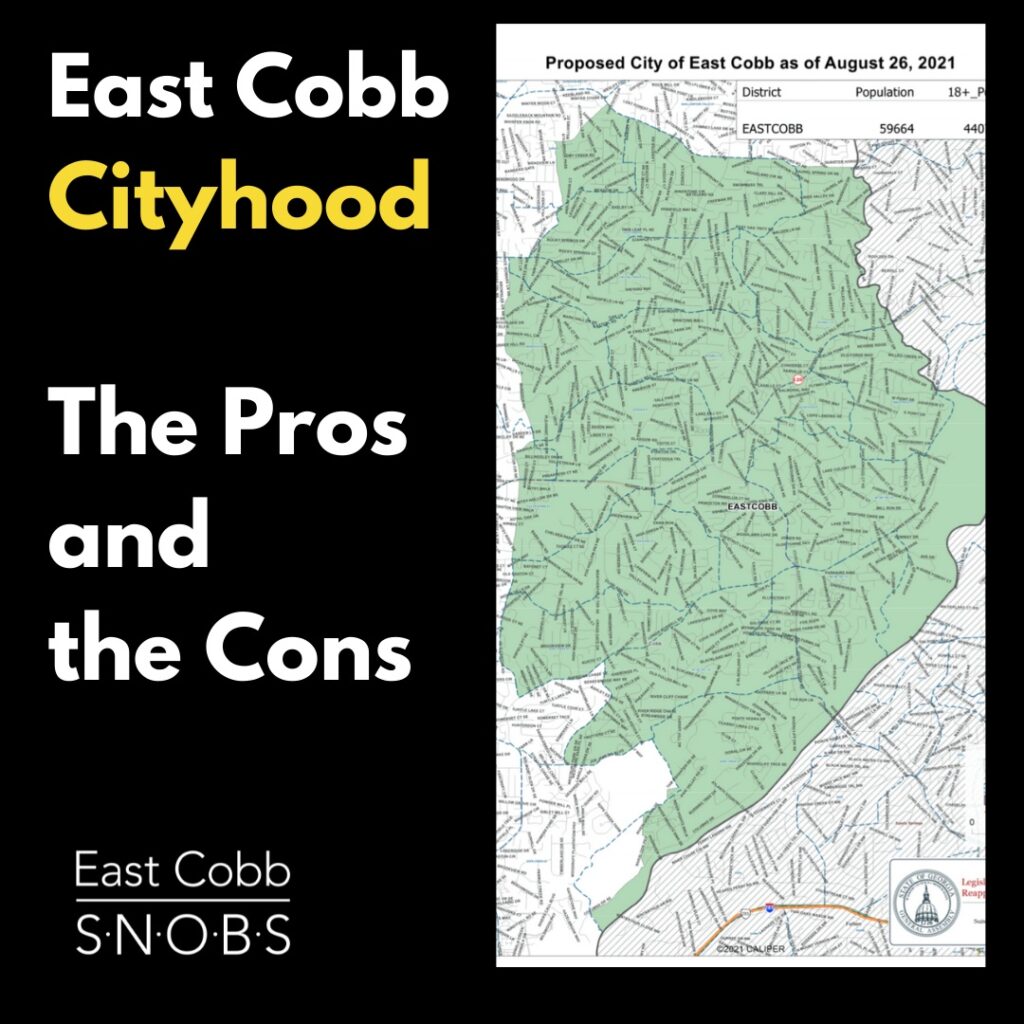 If East Cobb is made into a city, it will have its own mayor and city council. Supporters say this is a benefit, while the opposition says it is not.
Supporters of cityhood say that East Cobb residents will have stronger voting power than they do as a part of unincorporated Cobb County. The city would have 60,000 residents and 6 members of city council. Currently, each Cobb County commissioner represents about 200,000 people.
Critics of cityhood say this will add an additional layer of government which means higher costs and taxes. The county would still oversee parts of the government in East Cobb, but the new city would take over other specific services.
The new City of East Cobb would manage the following services: Zoning and Planning, Code Enforcement, Parks and Recreation, Public Safety (Police and Fire) and Road Maintenance. Supporters of Cityhood see this as a benefit, while those against cityhood see it as a disadvantage.
Supporters argue that this will give local residents more control over local services. They say that it will improve emergency responsiveness, police presence and road improvement.
Critics say that a new hyper-local government means residents will end up paying higher taxes. They argue that the services offered by the county are already sufficient to meet the needs of East Cobb residents.
Both sides, supporters and detractors, argue that their side of the argument will help stave off rapid development in East Cobb:
Supporters argue that local residents can have more influence over zoning and business codes, so they can prevent rapid growth.
Critics say that the new government will have to approve more business licenses and zoning changes to increase revenue and keep the government viable.
Here is a link to a map, if you aren't sure about the exact proposed location. If you would like a say on May 24th, you must be registered to vote by April 25th. Where do you stand on cityhood?