We are sad to report that Johnny Johnson, a fixture of the entire East Cobb community since the late 70s has passed at the age of 74 on February 24, 2021. Johnny first came on the East Cobb scene when he opened Edward John Jewelers on Johnson Ferry. Located in the original Merchant's Walk, it was officially known as the only place in Atlanta to get special heirloom jewelry pieces custom made. In time he earned the honor of Georgia Jeweler of the Year.
East Cobb Santa Claus
In public, he got plenty of attention not always because of his jewelry but rather because of his famous facial hair. Children instantly recognized him as Santa Claus! His definitive white beard and smiling eyes earned him the right to play Santa Claus for the East Cobb Park, "Home for the Holidays" Play, parades, and even local foster homes. Johnny was always willing to dress up for the cause.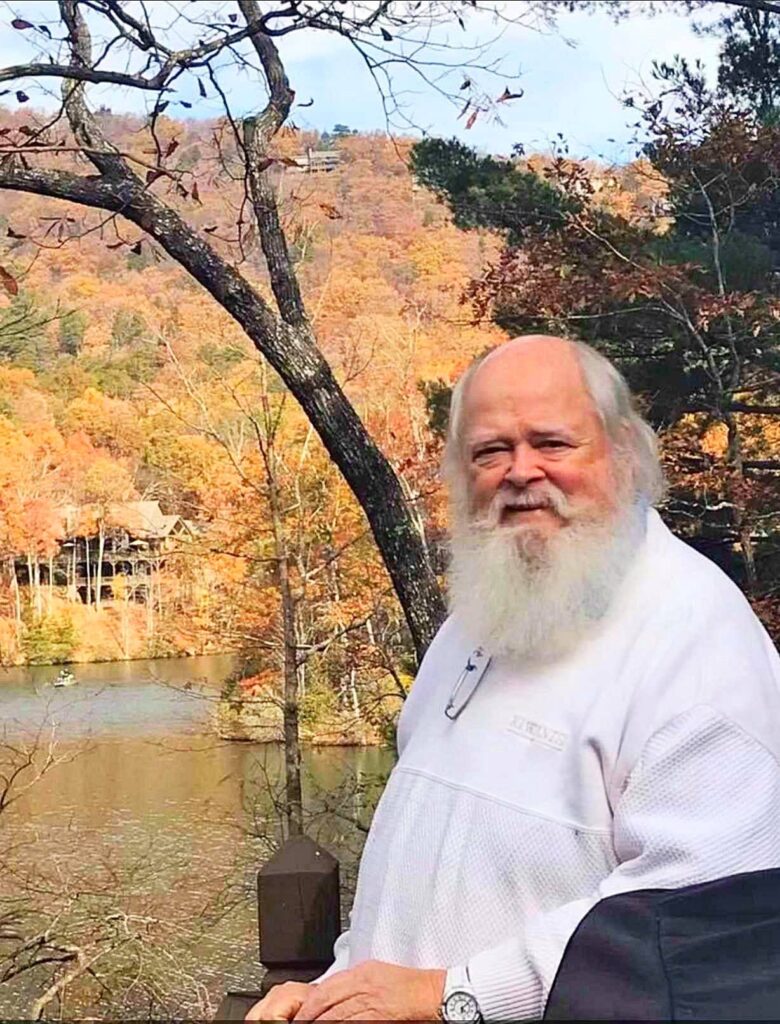 Johnny loved the East Cobb community and served at one point as the District Governor of Georgia for the Kiwanis, twice receiving the Lifetime Achievement Award. Additionally, he was a former president of the Cobb County YMCA Board, and once he was named East Cobb Citizen of the year. Johnny was also at one point Chairman of the East Cobb Division Chamber of Commerce. He worked tirelessly with the East Cobb portion of the Cobb County School board, supporting the schools for many many years. In fact for his service, he was honored by the Georgia PTA with a Lifetime Membership Award.
A Family Man
Johnny Johnson was so proud of his family, his 2 children and 7 grandchildren. He believed that the family was worth investing in, most importantly being married to Anna his wife for 50 years. During the day, he worked side by side with his daughter Jana at the jewelry store. His son Jerad also has been involved in the community by teaching and coaching at Pope High School. Truly, Johnny Johnson always encouraged others to give back to their community, he had said in an interview for Marietta.com in 2014, "Treat people as you would like to be treated, and BE INVOLVED".
His daughter Jana, shared with East Cobb Snobs about her father and how he touched so many lives. "He was an awesome person. I worked for dad for 27 years at our store, Edward-Johns Jewelers. Dad always had amazing stories and anyone who met him left feeling like they had known him for years. He was friends with anyone and everyone. He loved helping the schools, students, staff, teachers, administrators, etc. He never made an empty promise. If he told you he was going to do something he did it! He was the most honest person I've ever known. He created a loving family where my brother (Jerad and his wife Rylee) and I chose to live as close to mom and dad as we do. I live 1/2 mile one way and my brother and his wife live one block the other way in the same neighborhood. We all get together as a family often. He was also the East Cobb Park Santa, a role he embraced year-round."
East Cobb Snobs remembers Johnny Johnson. A memorial service will be held in the future, details to be announced.